For over 30 years Artistic Doors & Locks has remained a family operated business. Recently the Bailey brothers were able to retire knowing the legacy of this unique door company for the Tampa Bay area would be continued for generations to come. Still selling the best quality doors in the Tampa Bay area.
Brothers Find Niche for Their Door Business
By Carl Graziano Sunrise staff writer
September 20, 1989
Rhonda Hutcherson's art hangs on hinges, not gallery walls. Her stained glass creations can be found on the fronts of area homes, in doors sold by artistic Doors & Locks Inc. near Oldsmar.
She was at work last week on her latest creation, a jigsaw puzzle of small lead strips and beveled glass that would form an intricate arched window sold exclusively by the store. This self-taught glass worker said she learned most of her craft out of a book. "I signed up for some classes once, but I wasn't too impressed, "Ms Hutcherson, 31, said. "So I bought a book. I had a lot of people tell me I couldn't do it."
That was five years ago, when she spent about six months putting together her first window. Now she can turn out one in about two days, she said.
It's a good thing she's picked up the pace – business has been brisk since Artistic Doors opened its own doors about two months ago, said the store's co-owner, Ed Bailey. Bailey, 36, is no stranger to the door business. His parents began selling imported doors wholesale about 20 years ago and Bailey, among other jobs, operated a similar business in Atlanta before moving to this area.
Bailey's brother, Randy, is Artistic Doors' other owner. Randy Bailey, 34, with a back-ground as a building contractor, does installation work for the store.
Artistic Doors sells a selection of oak, mahogany and walnut doors, about half of which feature windows built by Ms. Hutcherson. Bailey imports the doors from Brazil that the Philippines, he said.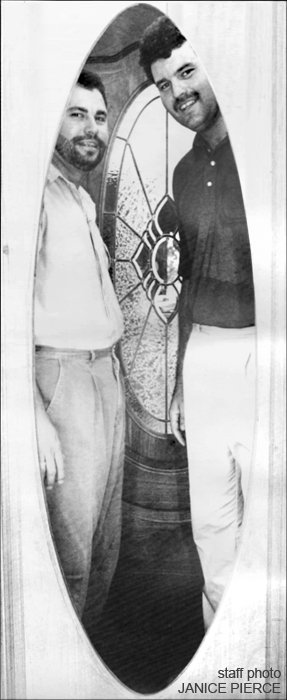 The stately doors, with their ornate stained glass inserts, cost from $150 "on up", Bailey said. One entryway the store deigned, he said, cost $12,000 and included an 8-foot-tall door, side lights and a transom.
Why would someone spend so much on a door – or spend even a few hundred dollars on one? "It's the first thing you see from the outside," Bailey said, "When you come up to someone's home, if they've got a nice entryway, that speaks something of the entire home and the family inside."
The effect of an attractive door works for most any home, he said. "Even with a low-to medium-priced home, you can put a nice entryway on and do wonders with it," he said. "Any homeowner is a potential customer for us."
About half the doors Bailey sells go on new homes, he said. Artistic Doors also fits existing entryways with new doors and can create an entryway where none existed, he said.
Bailey, with his best business demeanor, boasts that he sells the highest quality doors in the bay area. "I'm trying to carve out a niche in the market," he said. "And a long overdue need is being filled and that's the most rewarding part of the business."
The Bailey brothers grew up in Dunedin and attended Dunedin High School. Ed Bailey is a Florida State University graduate and lives in Oldsmar. Randy Bailey lives in Ozona.
Relocation opens doors for business
Artisans create custom entryways
By B.C Manion Tribune Staff Writer
February 12, 1994
TOWN 'N COUNTRY – Ed Bailey admits it: There's not a lot of high drama in his line of work. There aren't too many touching anecdotes or amusing incidents to report, either. But start talking to him or the glass artisans at Artistic Doors & Locks and brace yourself for a barrage of information about what goes into producing a distinctive front door.
Bailey co-ownes the business at 12901 W. Hilsborough Ave. with his brother Randy. They began operation five years ago, but moved into their new home last month. Now, their wares can be easily viewed from motorists passing by on West Hillsborough Avenue, and the increased exposure is boosting business.
"I'd almost have to stand out in the median with a door in my hand to be any more visible, Bailey said.
The most important ingredient in a quality door is the wood – particularly a dense, close-grained hard wood, Bailey said. Soft woods, such as fir, poplar and pine, tend to warp, crack and split Bailey said.
When it comes to windows, most customers prefer those that permit light to come through but provide security and privacy. The most popular designs feature clean lines and geometric shapes, accented by a touch of color, he said.
Creating a leaded glass window takes numerous steps, said glass artisan Connie Plisko. The tools of her trade include a hammer, horse shoe nails, soldering irons, pliers, snippers and soft brushes. Her supplies include sheets of glass, coils of solder, a putty mixture and strips of lead, zinc and copper.
Customers select a design, then choose the types and colors of glass, Plisko said. Next, she draws the patter, cuts the glass and prepares the lead, zinc or copper frame.
The lead must be stretched before it can be used. Otherwise it will stretch over time – causing the windows to pop out.
Then she assembles the pieces and seals them with a special putty. Finally, she cleans the finishes product. The whole process can take one to three days, depending on the scope of the job.
Plisko's goal is to make a window she would be proud to have at her own home.
Glass artist Ricky Hepner said he likes collaborating with customers. Sometimes, they come in with a sketch that cannot be built and they have to develop another design.
When a glass panel is properly done, it should hold 100 years. "My goal isn't to make it last 100 years; may goal is for 1,000," Harper said.
About half of the company's business stems from new construction, while the rest comes from remodeling jobs. Most customers hear about the company by word of mouth, Bailey said. Two builders who use Bailey's doors said the company has high standards.
"He knows the quality of the wood," said Donna Costanza, director of marketing for Costanza Homes, which build homes ranging from $300,000 to $800,000. "He really stands behind his work."
"Installing a door is an art form. No two are alike. They're like fingerprints," Bailey said.
"You can have the best door in the world and if it's not hung right, you have nothing. You could ruin an $800 door with one bad saw cut," he said.
Bailey's company doesn't try to be all things to all people. "We're strictly an entryway company. To do anything more, we'd lose our identity, we'd lose our quality."